Ever since getting media attention in 2013, American model and actress Emily Ratajkowski has always been in the spotlight. Although she became a sex symbol for many, making her more famous, Emily has proven that she is more than just looks. She has since appeared in various films and TV shows. Without further ado, here is everything you need to know about Emily Ratajkowski's net worth, personal life, and career.
Emily Ratajkowski's Family and Early Beginnings
Emily O'Hara Ratajkowski was born on June 7, 1991 in Westminster, London. She is the only child of her Polish-American parents, John David Ratajkowski and Kathleen Ane Balgley.
Her mother and father met each other at San Dieguito Academy in Encinitas, California, where they both taught.  Emily is of Polish, Polish Jewish, Irish, and German descent. Her mother was raised Jewish, while her father was raised Catholic. 
The family lived in West Kensington and Bloomsbury, London before moving to San Diego, California when Emily was five years old. At the time when the family left for the U.S., Emily already had a great interest in theater.
She started acting when she was just a child. She also had an interest in ballet and soccer.
Growing up, Emily visited nude beaches in Europe. This, as well as exposure to nude female photography, prepared Emily for nude work. As a self-identified feminist, she was never offended by nude art.
Emily Ratajkowski – Rising to Fame
What can be considered to have propelled Emily Ratajkowski to fame was her topless appearance in the music video of "Blurred Lines", performed by Robin Thicke. The song became the song of the year in 2013 in several countries.
Since then, Emily gained a considerable following, particularly on her social media accounts. Because of her liberal and daring nude modeling work, she is considered by many as a sex symbol in the modern era.
Emily Ratajkowski's Career in Modeling and Entertainment
American actress-model Emily Ratajkowski's career began when she signed with Ford Models. She was only 14 years old. Among her first modeling projects included teen print catalog modeling for Nordstrom and Kohl's.
When she turned 15, she pursued her passion for acting by auditioning for iCarly and Disney roles. However, whenever she was cast, she would be stereotyped to "bitchy" and cheerleader roles. 
While modeling and acting, she was attending San Dieguito Academy in San Diego. From 2009 to 2010, she appeared in some episodes of Nickelodeon's iCarly, but her manager discouraged her from taking any more acting engagements until she can be more selective of roles.
She attended UCLA in 2009, but quit after a year to do modeling full-time. 
After doing several editorials and campaigns with photographer Tony Duran, Emily began posing for the erotica magazine treats!, including the cover of the third issue in March 2012.
According to Emily, it was because of that cover that she was asked to do the music video for "Blurred Lines". Later on, she did commercials for Carl's Jr. and Nikon.
In October 2013, Emily was named by Esquire magazine as Woman of the Year. In December of the same year, she was named by Rolling Stone as one of the 20 hottest sex symbols.
In February 2014, Sports Illustrated named her as one of the 12 swimsuit rookies for the 50th-anniversary edition. In April 2014, she was ranked by FHM as the fourth sexiest woman in the world. Maxim also has her on its Hot 100 list in 2014.
Emily Ratajkowski's Personal Life – Relationships and Husband
In December 2014, Emily Ratajkowski confirmed dating musician Jeff Magid. They broke up in early 2018.
On February 23, 2018, Emily surprised her followers and the rest of the industry with an announcement that she has married Sebastian Bear-McClard, an American actor and producer.
They were dating for several weeks before the surprise New York City courthouse wedding.
Emily Ratajkowski's Baby
The couple announce the birth of their first child  born on 8th March 2021 on the eve of Emily's 30th Birthday. Their son has been named Sylvester Apollo Bear. 
Emily Ratajkowski – Filmography
Film
Andrew's Alteration – 2004
A Year and a Day – 2005
Gone Girl – 2014
Entourage – 2015
We Are Your Friends – 2015
Cruise – 2018
I Feel Pretty – 2018
In Darkness – 2018
Welcome Home – 2018
Lying and Stealing – 2019
TV
iCarly – 2009-2010
The Spoils Before Dying – 2015
Easy – 2016
Music Videos
"Fast Car" – 2012
"Blurred Lines" – 2013
"Love Somebody" – 2013
"Inseparable" – 2016
Commercials
Call of Duty: Advanced Warfare – 2014
The Kooples – 2017
Paco Rabanne – 2018
Emily Ratajkowski's Measurements, Height, Weight, Age and Other Info
Height – 5 feet 7 inches
Weight – Approximately 54 Kg or 119 lbs
Body measurements – 32-24-34
Age – 30 years
Ethnicity – Mixed
Shoe size – 8.5 US
Dress size – 2 US
Hair color – Dark Brown
Eye color – Dark Brown
Emily Ratajkowski Pics And Wallpapers
Emily Ratajkowski's "Buying Myself Back"
"Buying Myself Back" this piece written by Emily is about when does a model own her own image as been published by
I've been working on a collection of essays for the past year and couldn't be more thrilled at having it published by  @nymag
A personal piece where Emily has written about image, power and consent for which she is thankful to NYmag team. Within 24hrs Buying Myself Back had had over a million views and became the mag's most read piece.
In Twitter she writes an alarming piece where she about a Photographer Jonathan Leder who has released a number of books containing polaroids taken by the photographer and published against her will.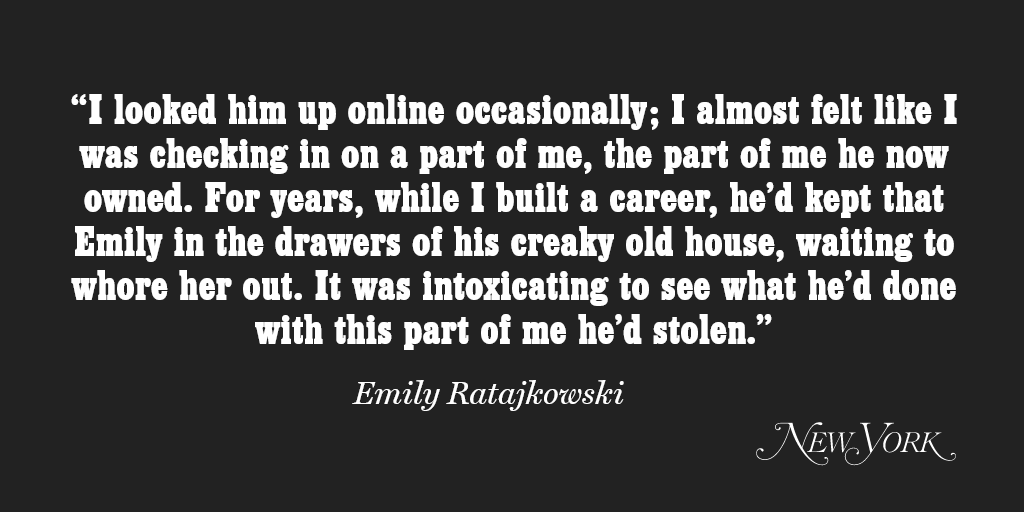 https://twitter.com/NYMag/status/1305843183776083971/photo/1
"My Body"
My Body written by Emily Radjkowski her first book, adding to her list of talents.
model
actress
activist
entrepreneur
business woman
writer
wife
Mother
Activist
Activist Emily Ratajkowski
Emily does not want to be know as an activist. She is a person who cares about what is going on at the time. As stated by Emily,  "How can I not care about these things and talk about them?"
"Respect female existence or expect our resistance" written on a placard held by her.
Business woman
Having already released her Swim Line "Inamorata", she has now gone on to release her lingerie line "Body".